75 Delicious Desserts for Events to Wow Your Guests
At your dessert event, let the delicious aroma of sweetness waft through the room as you present a dessert table full of flavor and unique ideas. Your guests will be able to take their pick from 75 mouth-watering treats – ranging from classic confections to international flavors – that promise satisfaction all round. Wow them with tantalizingly delightful desserts at your next gathering!
Short Summary
Classic desserts for timeless elegance
Unique treats like chocolate fondue fountain & fruit tarts with fresh berries
DIY dessert stations and family recipes to wow your guests
Classic Desserts for Timeless Elegance
For a delectable selection of desserts sure to please your guests at any celebration, look no further than time-honored treats. From weddings and birthdays alike, these classics will never go out of style!
When it comes to dessert spreads that are both beautiful and flavorful, there is simply nothing better. Let's explore some classic delicacies guaranteed to make an impression on those attending your event.
Chocolate Fondue Fountain
A chocolate fondue fountain is an ideal way to create a stunning centerpiece for your dessert table. Having a chocolate fondue fountain is also a fun way to offer guests scrumptious desserts with individual servings. Make sure to have a variety of goodies such as fruits, marshmallows, and other delicacies that can be dipped in velvety, delicious chocolate.
It's a wonderful addition to dessert bars for any party! Providing delectable options on the dessert menu ensures all partygoers get something satisfyingly sweet.
Fruit Tarts with Fresh Berries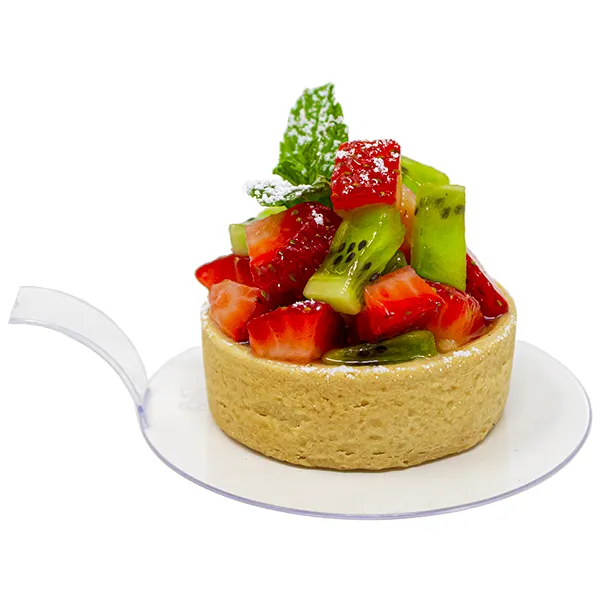 Fruit tarts, boasting colorful and scrumptious flavors, can be made to fit the tastes of any event's guests. These delightful desserts are not only visually appealing but provide a fun, sweet treat as well.
To make them even sweeter, add sugar or use fruits with more sweetness or top off your tart creation with powdered sugar! Serve up these delicious pastries at any gathering and watch as your attendees enjoy every last bite for an unforgettable experience.
Use CMJJ's Tart Shellsto create delicious fruit tarts! Our tart shells come in two different sizes, ranging from our medium 55mm vanilla tart shellto our large 80mm chocolate tart shell, we got you covered! Create delicious filling or glaze for your tart shell dish and serve mini desserts to your guests! As we sell these tart shells wholesale, you have enough tart shells to cater large weddings and other events.
Traditional Sheet Cake
The perfect way to create a festive atmosphere is with an individualized sheet cake. With its many flavors including chocolate, vanilla, and lemon for variety as well as the icing, sprinkles or other decorations, you can customize it to your liking.
Guests will enjoy this classic dessert at any event! And there's no need to limit yourself when looking for mouth-watering dessert ideas, cakes are such versatile treats that suit almost every situation!
Bite-Sized Delights for Easy Mingling
At your event, offer a unique and delightful way for guests to socialize with bite-sized desserts! These small indulgences provide the perfect opportunity to sample various treats while keeping conversations going.
Perfect for networking or just having fun at any occasion, these sweet delights will definitely get people talking about your special gathering long after it's over. From cupcakes to cookies and mini pies, serve up an array of tasty bites that everyone can enjoy.
Mini Cheesecake Bites
Mini desserts, especially cheesecake bites, have become a popular choice among guests looking for an indulgent treat. These small delights come in different flavors – from the classic vanilla to sweet strawberry – and should be served within a few hours of baking to ensure they remain fresh with every bite. Refrigeration prior to serving is also necessary in order to preserve their taste and quality.
Cake Pops with Fun Designs
Add a bit of playfulness to your dessert table with cake pops. Cake pops are the ideal choice for those who want something sweet yet easy. Plus they look amazing as their creative designs make them stand out at any event! Guests will be charmed by these colorful treats.
Make an impact on all attendees with unique confectioneries that come shaped like little cakes – perfect if you're looking for a fun snack or light treat during the party too!
Petite Chocolate Mousse Cups
For a luxurious bite-sized dessert experience, petite chocolate mousse cups are the perfect choice. They have been filled with an incredibly light and silky mouse for decadence to satisfy your guests' sweet tooth cravings.
Serve them in either a chilled or frozen state – you could even make it look more elegant by topping off these delicious treats with fresh fruit or some finely shaved chocolate!
International Flavors for a Worldly Experience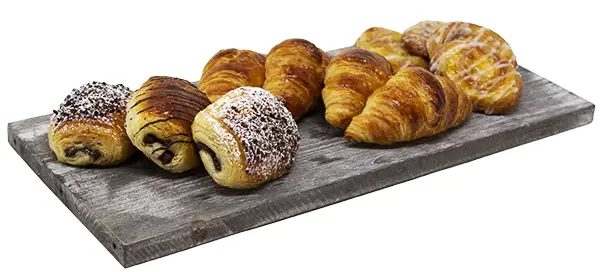 Treat your guests to a unique dining experience from around the world with global desserts. These international delights will offer each guest an exciting opportunity to sample a variety of cultural flavors, sure to be enjoyed by everyone at the event.
Let's have a look at some inspiring options that guarantee your visitors can savor intriguing tastes and enjoy unforgettable culinary moments!
Pictured above are CMJJ's wonderful mini croissants, frozen and ready for proof and bake. Check out our Frozen Products page for more information on our French pastries!
French Macarons
The addition of French macarons to a dessert table will lend an air of elegance and sophistication. With their crisp outer shell contrasted with the chewy interior, these colorful cookies provide a delightful taste experience that is sure to impress your guests.
Available in various hues and flavors, they can be arranged for visual impact while pleasing palates at the same time Surprise your wedding guests with white vanilla macarons with a cream filling. It'll be the perfect ending to a beautiful ceremony.
Italian Cannoli
For your event, why not bring the flavors of Italy with delicious cannoli? These traditional Italian pastries are filled to perfection and topped off with a mix of ricotta cheese and chocolate chips for an irresistible blend in both flavor and texture.
Serve them alone or alongside other sweet treats as a unique surprise to delight your guests. This dessert will truly transport you straight to Sicily! From the first bite, you'll know this Italian dish was the right choice.
Spanish Churros with Dipping Sauces
For an entertaining and interactive dessert, consider Spanish churros with accompanying dipping sauces or frosting. Offering a variety of options for guests to choose from like chocolate, caramel or fruit toppings makes this fried dough pastry the ideal treat choice for any party.
Besides being scrumptious, serving up these delectable delights is quite straightforward as they can be served in cones or cut into individual glasses. How you serve these sweets enables everyone attending your occasion to have their own portion easily. So why not spice things up and enjoy a fun night out by having churros on offer!
Frozen Treats for Refreshing Indulgence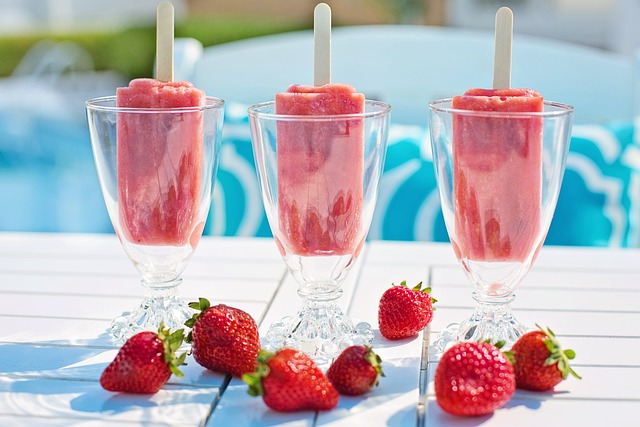 When the weather turns hot, nothing helps to chill out your visitors quite like offering them a selection of tasty frozen desserts. Doing so will make for an enjoyable and memorable event as you serve up these cold treats!
From ice cream cones, sorbet, and popsicles to gelato, there is something special about these cold treats that can't be denied. All in all, with just the right combination of sweets at your disposal, guests won't need any other treat. They'll love being able to cool down while indulging their sweet tooth cravings.
Gourmet Ice Cream Sandwiches
These ice cream treats with creamy filling and freshly made cookies certainly stand out from the traditional dessert. Make them a highlight of your guest's dessert experience by showcasing various delicious flavors like strawberry swirl, cookie dough or classic vanilla on the table.
Watch in awe as guests enjoy these unique frozen creations! Indulging in this delectable treat is sure to make for an unforgettable event. From sugar cookies or chocolate chip cookies with a vanilla ice cream filling to even a mix of cookie butter and brownies with chocolate ice cream fudge filling, your possible ice cream sandwich recipe can be one of many!
Custom Gelato Bar
At your event, you can provide a one-of-a-kind experience for guests by setting up a custom gelato bar. The delicious and customizable desserts will be sure to entertain all of the attendees as they have fun selecting different flavors and toppings. It's an exciting way to serve everyone desserts while giving them something special just for themselves!
Having this interactive station ensures each guest is able to enjoy their own personalized dessert without missing out on any of the fun experiences happening at your gathering. And the amount of flavors are endless! Peanut butter, brownies, sweet cream for a sweeter taste, and those are just a few to mention.
Sorbet and Fresh Fruit Cups
For a delightful and light dessert at your event, why not provide sorbet with fresh fruit cups? Sorbet is ideal for people who want to enjoy a pleasant fruity taste without the extra fat or calories associated with ice cream and gelato. Paired up with different combinations of fresh fruits will make sure that all guests are catered for no matter their tastes.
Offer an array of flavors in both sorbet and fruit so each person can pick something they like while still keeping it healthy!
DIY Dessert Stations for Interactive Fun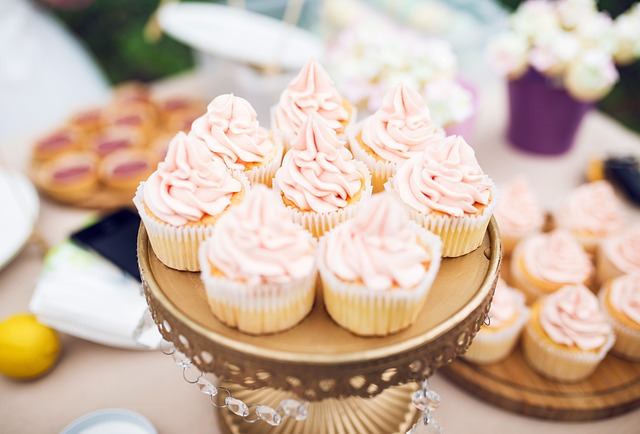 Having a DIY dessert station can liven up any event. Guests will have lots of fun creating their own treats and these unique bars are sure to provide an enjoyable experience that they won't forget. By having this interactive setup, your guests can enjoy the festivities even more while getting creative with desserts at the same time!
A dessert bar is an excellent choice for creative desserts. It lets everyone try different kinds of sweet snacks in their own way. It makes for great entertainment too. You're able to give each person control over what kind or how much they'd like to indulge in. If you're looking for something special for your next gathering, adding some sort of interactive game involving yummy desserts might just do the trick!
Build-Your-Own Sundae Bar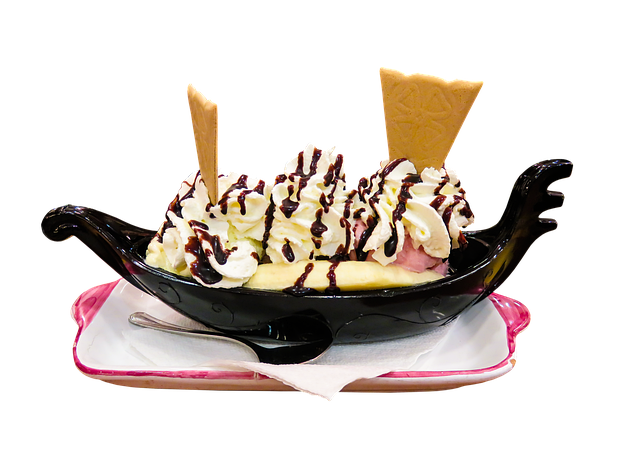 Serving up an unforgettable dessert experience is easy with a build-your-own sundae bar! Let your guests create their ideal ice cream creation by providing multiple flavors of creamy goodness and plenty of tasty toppings. Make sure to have enough bowls, spoons, napkins. These are necessities to keep your guests clean and tidy.
You can even include some unique sauces too! It's always exciting when your guests are able to indulge in something that they created entirely themselves. Let them enjoy the perfect balance between classic flavors and custom sweetness all in one go!
Cookie Decorating Station
Creating a cookie decoration station can be an enjoyable and entertaining way to engage guests at your gathering. Place different kinds of cookies along with colorful icings and decorations for all attendees to customize their tasty treats. This creative dessert setup will allow everyone to have fun while expressing themselves through the desserts they make.
Make sure there are enough topping options available so that everybody has access, plus allocate some space in which people can decorate their sweet snacks without interruption or hassle.
S'mores Making Station
Bring a blast of nostalgia to your event with our s'mores station! Guests will get the chance to make their own custom s'mores – all they'll need are some graham crackers, marshmallows, chocolate bars and roasting sticks.
This unique dessert bar gives guests an interactive activity that's enjoyable. It is also comforting because it offers a classic treat everyone knows and loves. Your attendees won't forget this fun experience any time soon! Just make sure to keep napkins nearby. These yummy snacks tend to get a bit messy!
Desserts Inspired by Family Recipes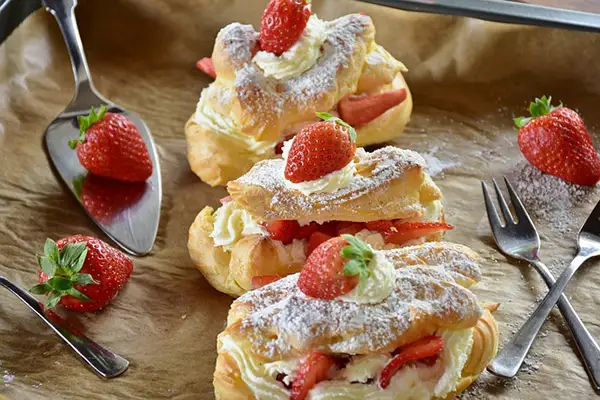 Add a personalized and heartfelt element to your dessert when you create desserts based on family recipes. These treats not only celebrate the history of your ancestors, but also provide an uniquely yummy opportunity for guests at the event to enjoy.
Let's investigate some favorite dessert possibilities born out of beloved family recipes which can make any special occasion even more so!
Grandma's Famous Chocolate Chip Cookies
The perfect accompaniment to any gathering are Grandma's homemade chocolate chip cookies. Use a secret family recipe. Maybe add some extra butter or a mix of cream. They will be an instant hit at your event. Freshly baked and served straight from the oven, these scrumptious treats will bring back fond memories for all of those who try them!
To ensure success in making this beloved dessert, ensure you adhere closely to the original instructions and let it cool completely before serving for optimal results. Enjoy indulging in that familiar taste of sweetness when offering up these yummy cookies!
Personalized Bundt Cake Selection
Creating a personalized bundle of cakes using family recipes and special flavors is an excellent way to display your ancestry through mouth-watering dessert. Choose from many sizes and tastes, including chocolate, vanilla, or lemon. There's something for everybody!
These delicious cakes can be gift wrapped in their own personal packages. Add that extra touch of uniqueness!
Whipped Cream and Berry Trifle
Assemble a decadent and appetizing trifle made with a classic family recipe. These are an ideal dessert choice as they can be assembled up to one day in advance. This particular treat has various distinct layers comprised of whipped cream, berries and chunks of cake or biscuits.
The unique mixture of flavors from the different components will excite your guests' taste buds while leaving them wanting more!
Summary
No matter the event, make sure to provide your guests with a plethora of delectable desserts! Give them an unforgettable experience by serving something for every sweet tooth. Let your dessert bar stand out and be remembered.
Offer classic treats or even interactive stations to really tantalize their taste buds. So go ahead, indulge and let everyone bask in delight at all the sugary goodness you've put forth.
Frequently Asked Questions
What is a dessert party?
A themed event with a focus on sugary treats, a dessert party provides the perfect way to add something special to any occasion. It's an amazing opportunity for friends and family members alike to come together and make lasting memories. Whether it be at birthdays, baby showers or weddings, these sweet parties never fail to impress!
What are some classic desserts that never go out of style?
No matter the type of event, classic desserts such as sheet cakes and fruit tarts with fresh berries are sure to be a hit. For something extra special, treat your guests to a chocolate fondue fountain, you can even choose from different flavors for an individualized twist on this timeless dessert.
These delicious treats will make your birthday or wedding one that won't soon be forgotten. From decadent chocolates all the way down to simple fruits, there is no limit when it comes to picking out tasty desserts.
Make memories at any occasion with desserts like nobody has seen before – create something unique by combining favorite flavors and styles of cake into works of art fit for any celebration!
How do I create a visually stunning dessert bar?
For a bold and vibrant dessert setup, why not add some stylish signs, balloons, and interesting displays? You'll be sure to have fun exploring all the inventive possibilities for your table. Make it truly eye-catching! Desserts will never look so impressive again.
While summer is the perfect time to hold your events outdoors rather than indoors, it…