Mason jars have come a long way since their humble beginnings as canning essentials. Today, they have taken over the world of upcycling, with endless possibilities for creative, functional, and eco-friendly uses. Ready to dive into the world of mason jar magic? Let's explore how to reuse mason jars and how these versatile containers can transform your home, celebrate the seasons, and even inspire thoughtful gifts!
Key Takeaways
Maximize home storage with mason jars, lids & organizers.
Craft unique decorations and gifts for any occasion.
Learn how to clean & maintain your mason jars for long-term use!
Mason Jar Storage Solutions
Mason jars provide a great way to keep items in your house fresh and secure. Incorporating mason jars into your daily life will help you visually keep track of your items while still being an effective storage solution. We all have that one "junk drawer" usually full of batteries, twist ties, coins and more. We recommend using slim profile tall mason jars as a storage solution in your drawers so you can easily categorize all your bits and bobs. It's time to use these attractive pieces for organization around the home.
Let's explore a few ways to reuse mason jars in your home! Through utilizing this method, we are able to both store our belongings safely without worrying about spillage or lost items and adding aesthetic value at the same time.
Kitchen Storage
An orderly pantry is enhanced when stocked with neatly organized mason jars, filled with an array of dry goods like spices, dried fruits, nuts and other baking necessities. Reusable canning lids help make this storage solution both effective and sustainable. and depending on your needs you can use either plastic or glass jars.
To save up on space, utilize tiered organizers to contain multiple jars that secure contents while providing a vintage charm to your kitchen decor!
Don't stop there, you can also reuse mason jars for storing your fridge items as well like jams, jellies, pickles or sauces!
An easy DIY for prepared grab and go pantry snacks is to fill them up with popcorn and candy, top them with a bow and store them for when the time is right. This is the ultimate movie snack, we recommend using popcorn, M&Ms and a sour candy. Perfect for any occasion or holiday, this is a snack everyone is sure to enjoy.
Try using a large mason jar for this treat, this wide mouth mason jar has the capacity to hold about 29.6oz and is an ideal portion size for snacking.
Bathroom Organization
Organize and add a touch of style to your bathroom with Mason Jars. These containers are the perfect place for make-up brushes, cotton balls, toothbrushes and Q-tips – so that you don't have to go through drawers in search of them again. We recommend sticking with plastic in the bathroom since it won't shatter if you drop it and since you're not trying to store food it's perfectly acceptable to opt for plastic.For added sustainability, benefit from reusing lids when storing bath salts or hand soaps too! You will want to stay away for aluminum lids to avoid rusting. Try these short wide mouth mason jars that hold 11.5 oz which is perfect for bathroom essentials and with the plastic lids you won't have to worry about rusting!Keeping this eco friendly storage solution around will ensure your entire bathroom stays neat while still keeping clutter out. Not only will you be organized, but you will have a visual on all your items which can make sleepy mornings a little easier to manage.
Workspace Essentials
With the help of mason jars, workspace mess can easily be prevented. These are ideal for arranging pens and other work essentials neatly inside your drawer or desk. Paper clips, rubber bands and pins could be put together with little effort by using jar lids to store each item in its proper place.
The advantage of having these containers present is that they provide easy access while preserving a beautiful display – not only cleaning up but also showcasing your office inventory at the same time!
Reusable covers make them an even more sustainable option when it comes to storage needs too. Thus allowing you to feel proud about staying eco-friendly in terms of choice selection!
DIY Mason Jar Decor
Tap into your creative energy by transforming mason jars into lovely DIY decorations. From painted containers to glowing lanterns and terrariums, the ideas are plentiful! Bring a splash of charm and artistry to any space with these inspiring mason jar creations.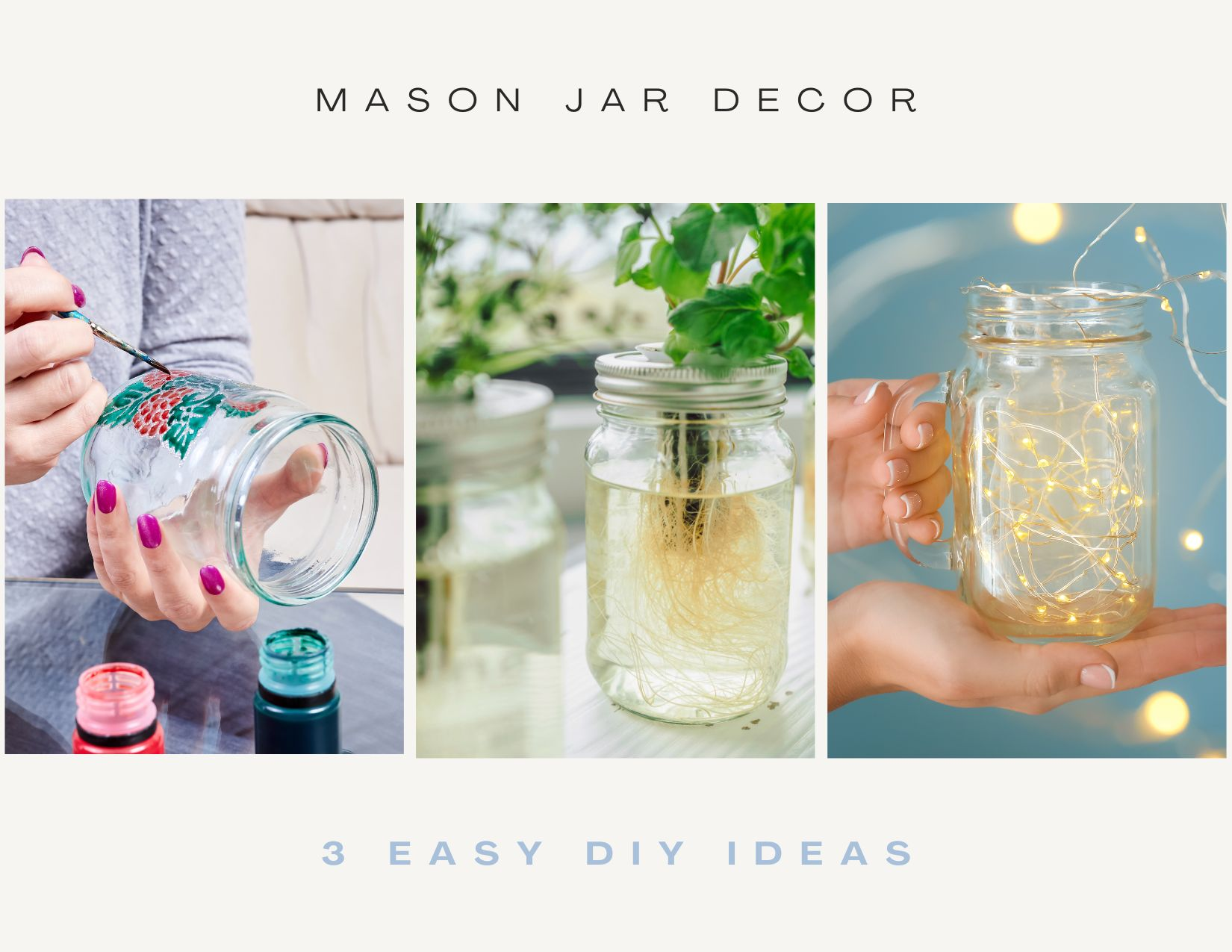 Painted Mason Jars
Personalize any space with a unique painted mason jar. All you need is some primer, chalk paint, acrylic craft paint or glass-paint and then the fun begins! After priming the jars to ensure that your coat of color adheres well, apply multiple layers in order to get an even finish.
These charming jars can make stunning vases filled with fresh blooms or be used as decorative pieces around your home – let them reflect both style and taste. Once you finish painting you jar try filling them with string lights or cotton balls to give your masterpiece more dimension.
Fairy Light Mason Jar Lanterns
Create a dream-like atmosphere in your home or yard with captivating lanterns crafted out of mason jars. To make them, simply put the fairy lights into the jar and secure it with its lid before plugging it to an electrical outlet. These enchanting decorations are perfect for events or just adding some coziness to any room indoors and outside as well! Plus, they're simple on time AND money since you can craft these beautiful lamps without breaking the bank.
Mason Jar Terrariums
Creating your own mason jar terrariums makes an ideal low-maintenance indoor garden, perfect for adding greenery to any room. Begin by layering gravel, activated charcoal and potting soil in the container before planting small plants of your choice. For optimal results, keep it watered often and away from direct sunlight but don't forget about occasionally trimming them too! A great way to spruce up a space with natural beauty, just make sure you remember that regular upkeep is important.
Eco-Friendly Mason Jar Uses
Mason jars offer numerous environmental benefits that make them an ideal choice for many activities. Not only will utilizing these containers provide a cost-effective and sustainable approach, but you'll also reduce waste in the process. Use mason jars to stock up on bulk items at your local store or even as DIY cleaning supplies holders. They are perfect for reusable food storage too! So if eco-friendliness is important to you, take advantage of this solution today – save money while preserving our planet's resources along the way.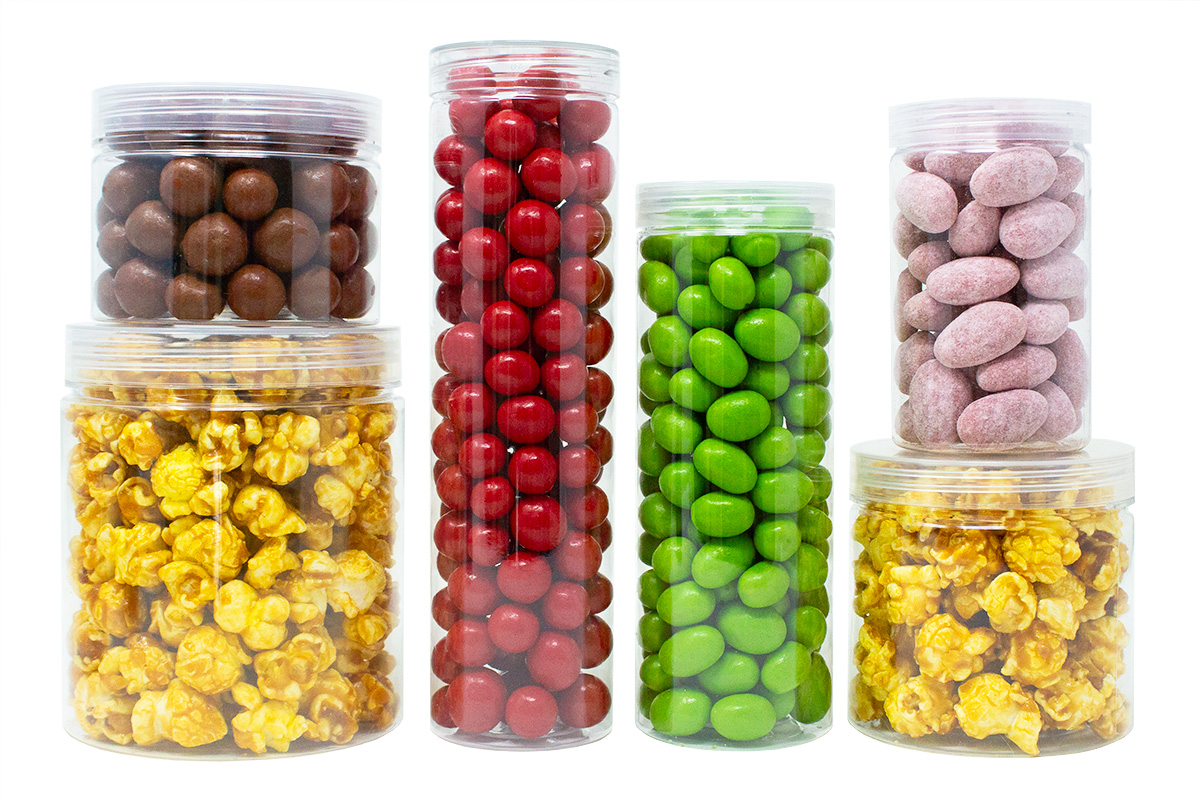 Bulk Shopping Containers
Say goodbye to packaging garbage and embrace the era of eco-friendly shopping. Here's how: bring your mason jars with you when visiting a bulk store, be it for groceries or supplies. Then fill them up with legumes, rice, etc. – this will cut down on plastic trash while keeping sustainable practices alive!
Make sure to carry enough containers and add labels stating what is inside each jar, plus take note of their weight before filling them in so that they can be correctly weighed after being filled. This may require extra effort, but certainly has worthwhile environmental advantages too.
DIY Cleaning Supplies
Glass jars can be used to store homemade, eco-friendly cleaning supplies – like DIY air fresheners made with baking soda and essential oils, or natural wipes constructed from paper towels combined with a special solution. These products are cost effective and contain only the ingredients you know about – reducing plastic waste associated with bought commercial items.
By creating your own cleaners at home, you'll not only save money, but also help protect our environment!
Reusable Food Containers
Mason jars are an amazing choice for reusable food storage in addition to classic tupperware. These containers provide a perfect way to store leftovers, prepare meals ahead or pack snacks while travelling, and they can even be used in the microwave to heat up hot meals! To get maximum use from your mason jars it is important to properly clean and sanitize them before each time you use them as well as adhering strictly to safe storing practices that will help keep the freshness of your food intact.
Mason Jar Gift Ideas
Creating custom mason jar presents offers a distinctive combination of creativity and thoughtfulness. In an age where you can buy anything, heartfelt gifts come out on top and there is nothing better than making someone feel special. No matter the event or person, there are plenty of ideas to put inside one of these containers – from homemade treats to DIY beauty products as well as keepsake jars!
Homemade Treats
Gift your loved ones with personalized mason jars filled with homemade goodies like cookie mixes, granola, or hot cocoa. Tie up the gifts in ribbons and tags for a festive feel while adding instructions on how to use them along with a sweet note expressing your feelings towards that special someone. This thoughtful gesture is sure to make anyone's day!
DIY Beauty Products
Craft luxurious DIY beauty products such as body scrubs, bath salts or candles and present them in mason jars for a relaxing treat. Adorn the jar with ribbons, bows and other cheerful trimmings to make it an even more special gift.
Try creating a custom Jewelry set with loose beads, charms, strings and mini scissors. This makes a perfect craft for someone you cherish and since they have the ability to create it themselves they can make it exactly how they prefer. The giftee will not just relish your first-rate homemade products but also feel grateful for all the time you spent preparing this unique offering.
Memory Jars
Creating a personalized memory jar is the perfect way to show how much you care and celebrate any special occasion. With pictures, keepsakes, or notes as part of the contents in the memento filled receptacle. It can be spruced up with decorations such as ribbons and labels that make your gift even more meaningful. No matter what milestone is being commemorated: an anniversary, graduation ceremony – simply because, this unique present will be held on for years preserving all those treasured memories forevermore!
Mason Jar Aquariums
Creating a mason jar aquarium can be an educational and entertaining task for kids. All they need to do is add small toys, rocks, faux plants and even blue food coloring into the filtered water in order to give it that cool underwater look. With this fun project, children can learn about aquatic life while also being mindful of their role in protecting our planet's environment.
Mason Jar Crafts for Kids
Incorporating children into mason jar crafts can be a thrilling experience that teaches them various skills. They could make aquariums, piggy banks and sensory jars as all of these projects offer a chance for kids to explore their creative side while learning valuable lessons along the way. You may want to consider opting for plastic jars when crafting with kids to avoid any accidents that may happen when dealing with glass. We'll cover a few different options for each of these crafts.
Something cool and unique we may have all done as kids is make the oil and water aquariums in a plastic water bottle. However using a long tube like mason jar with a screw on lid it a beautiful way to store your creations and clearly see all the components. Not to mention the durability that comes along with it. Try out these 15oz clear plastic mason jars which are perfect to watch your aquariums slosh around.
DIY Piggy Banks
Help kids understand the importance of putting away money by creating their own piggy banks using mason jars. Allow them to spruce up the containers with creative patterns and unique decorations, all while having a great time learning financial skills at the same time!
Motivate children to set savings objectives, track their progress over time, and appreciate what budgeting can do for them in years ahead. Encouraging such behavior ensures they comprehend how vital it is to save funds responsibly from an early age.
For a DIY piggy bank you probably want to use a larger plastic mason jar to fit all of your child's earnings! Being able to see how much they've saved through the clear jar is a super motivating experience and they will love to watch their jars fill up with cash over time! Try using this 29.6oz wide mouth mason jar!
Sensory Jars
Sensory jars are a fun and engaging tool for learning. These can be made with various materials that incorporate texture, color, or other interesting elements. Ideas include swirling glitter in the jar, squishy gel beads, bright colored rice or pasta grains, small toys suspended in water droplets, and sand layered with shells or tiny trinkets. You could also use slime in your sensory jars. When making a sensory jar something important to consider is using a wide mouth mason jar so your child can reach into an pull out their items easily without reaching their whole arm in. So you would need a short wide mouth mason jar to make this possible!
Not only do sensory jars provide an interactive experience to explore different senses, but they also offer children a calming distraction when needed throughout the day. This makes them incredibly beneficial as part of early childhood development activities, providing multiple functions within one activity!
Seasonal Mason Jar Projects
Mason jar crafts provide a fun way to celebrate the various seasons throughout the year. Halloween lanterns, Christmas snow globes and spring planters you can craft decorations that will bring joy for years to come. This is an excellent chance to be creative with these jars and make something special for each season!
Halloween Mason Jar Lanterns
Make your Halloween decorations stand out with these homemade mason jar lanterns. Adorn them with creative and chilling designs, such as spider webs or jack-o'-lantern faces—and don't forget to add some glow in the dark accents! Use them indoors on tables and shelves, or bring a haunting touch outdoors by displaying the jars outside of windowsills or porches.
Unleash your imagination while crafting unique eerie mason jar lights for one spooktacular holiday celebration this year!
Christmas Mason Jar Snow Globes
Create your own mason jar snow globes and make them special with personalized names, messages or dates. These enchanting decorations are ideal for displaying on a mantelpiece, shelf or as part of the holiday table centerpiece, they can be treasured for years to come! Add glittery miniature scenes along with some faux snow and craft beautiful festive Christmas keepsakes.
Spring Mason Jar Planters
As the season transitions, you can welcome spring with cheerful mason jar planters filled with blooms and plants. Whether placed on a windowsill or as decoration for your tablescape, these containers of lush greenery will provide an aesthetically pleasing addition to any home.
Not only do they lend an air of natural beauty. But also remind us all that renewal is in full bloom during this time!
Tips for Cleaning and Maintaining Mason Jars
It is imperative to preserve mason jars properly in order for them to last and operate correctly. To aid with cleaning and upkeep of these durable vessels, here are a few helpful suggestions such as taking off any labels, eliminating smells, and right storage methods.
Maintaining mason jars isn't difficult if you know what steps you need to take – from discarding stickers on the jar's surface area all the way up to knowing exactly where it should be stored appropriately once done.
Proper Cleaning Techniques
In order to maintain your Mason Jars in great condition, wash them with a gentle brush and some sudsy water. If you are having difficulty removing labels or odors, try soaking the containers for several minutes using warm water mixed with dish soap as well as baking soda before scrubbing off dirt particles.
By utilizing these strategies of cleaning correctly, it will ensure that your mason jars stay stylish and functional over time.
Storing Mason Jars
If you want to keep your glass mason jars in good condition and ready for use, it's essential that they are stored correctly. Place the jars somewhere cool, dark and dry, either using their original boxes or wine boxes with dividers will provide added protection. This way of storing them can help save space as well as protect them from damage.
One of the benefits of using plastic mason jars is that you don't have to worry about them breaking and you can store them in a bag or box. There is also no need to worry about temperature when storing plastic mason jars either so they are an excellent choice if they suit your needs. Check out some plastic mason jar options here.
Summary
With the rise of mason jar upcycling, it's easy to discover why these vessels are so versatile and excellent for creative projects. Whether you're looking to spruce up your home with DIY decor or find an eco-friendly storage solution – jars have seemingly endless possibilities that can be used year round! From crafting thoughtful gifts in honor of special occasions to celebrating different seasons, grab a few jars and let those imaginative juices start flowing.
Frequently Asked Questions
How many times can you reuse a canning lid?
Canning lids should not be reused, as this can cause jars to fail in forming an airtight seal. The specialized sealing compound on the rim of these lids is only effective for one-time use during the canning process.
If it's used multiple times, then food may become unsafe to consume. It is essential that new lids are employed each time when engaging with a jar preservation exercise.
Reusing mason jars for canning purposes is possible as long as the screw bands are in optimal condition. It's not recommended to reuse metal snap lids more than once because their seals cannot be duplicated afterwards. These need to be replaced after every use of such a jar or lid so that one can preserve food safely and effectively with little effort if they own quality Mason containers along with sturdy tops.
Can you wash and reuse mason jars?
Yes, you can wash and reuse glass mason jars as long as you inspect them for any damage or cracks.
You can reuse old canning jars, as long as they're in good condition and not chipped or scratched. However, make sure you use new lids each time since the gasket compound on used ones may fail to properly seal the jars.
Thoroughly clean the jars with hot, soapy water and avoid washing aluminum lids with dish soap in hot water. The canning lid must also be changed for each new use to guarantee their hermetic seal.
How can I remove labels and odors from mason jars?
By immersing the mason jars in a combination of warm water, dish soap, and baking soda, one can efficiently get rid of labels and odors.
Where can I find plastic mason jars?
If you're looking for the perfect size for your new project CMJJ carries multiple sizes of mason jars, so if you're looking for a larger size, check out our Plastic Mason Jar collection here! Ranging from sizes as small as our 8.3oz mason jar to our largest 29.6oz mason jar, you're sure to find something to suit your needs at a price that won't break the bank. Whether you're looking for clear, frosted, or aluminum lids we have plenty of options to suit your style.
While summer is the perfect time to hold your events outdoors rather than indoors, it…