Bring some excitement to your office with a variety of delicious office catering experiences! There are so many options that you can use to easily satisfy everyone's taste preferences, from sandwiches to international cuisine. Your employees will look forward to their next company lunch thanks to these 20 wonderful lunch ideas and creative catering choices. Make every day special in the office by providing tasty and unique catered meals for all!
Short Summary
Gourmet sandwich selection, customizable bowls & burritos, and seasonal soup station for elevated office lunches.
Creative salad bar and international food festival to explore global cuisines.
Live cooking stations, DIY kits & themed lunches for interactive experiences. Healthy lunch boxes & finger foods for memorable treats.
1. Gourmet Sandwich Selection
A delicious office lunch experience can be easily achieved with a selection of gourmet sandwiches. This option includes options such as artisan bread, high-quality meats, fresh vegetables and unique condiments or sauces for everyone to enjoy, including beef being served. Imagine biting into a grilled cheese sandwich equipped with caramelized onions along with herb infused mayonnaise. Alternatively, one might have the meatball sandwich filled with zesty marinara sauce topped off by melted provolone cheese! By choosing this catered treat at work, ordering tasty lunches has never been simpler nor more delectable than before!
Customizable Bowls and Burritos
Offering a range of scrumptious meals that can be tailored to suit your employees' various tastes and dietary requirements, office lunch catering doesn't have to mean the same boring food every day. From Indian street dishes like bhelpuri and aloo chaat, right through to nachos with guacamole, jalapeos and pico de gallo – it's easy for absolutely everyone in the company to get their fill at an exciting catered meal or luncheon!
Lunch ideas such as customizable bowls and burritos provide plenty of variety that makes them perfect for workplace events too. There's something available from across many cultures – Mexican cuisine alongside Asian flavors. Mediterranean-inspired delicacies together with Korean BBQ feasts… any combination you choose will not only tantalize tastebuds but also keep employees satisfied! So why wait? Make sure all who enter your office are offered varied tasty lunches served just how they love 'em!
Seasonal Soup Station
Providing a seasonal soup station to your employees can have great benefits. During lunch break, they will be able to relish scrumptious soups tailored specifically for their preferences such as chicken noodle and tomato that will make them feel warm in the winter or enjoy a cooling gazpacho on hot days of summer. Not only it promotes solidarity within teams, but also boosts post-lunch productivity by allowing everyone access to something tasty and comfortable like creamy cabbage with kielbasa! And who doesn't love a little comfort food during a company lunch?
Creative Salad Bar
Offering catered lunches in the office could be a great way to promote good health and employee morale. A creative salad bar provides an opportunity for employees to make their own salads with plenty of fresh produce, proteins such as chicken or fish, nuts, seeds and more! Lunchtime will become much more enjoyable when individuals can create unique meals from all the ingredients available. The cost varies depending on how many staff members are being served, but it is certainly worth the investment considering its benefits. Why not give your team this lunch option?
International Food Festival
Bring deliciousness to your office through an international food festival. This type of catering is ideal for corporate events and team building experiences, as it allows employees to sample a range of international cuisine – from Thai cuisine and Vietnamese plates, down to dumplings! Setting up distinct stations with small eats such as veggie spring rolls or chicken marsala not only offers coworkers flavorsome options at lunchtime, but also provides an opportunity for them to socialize while networking too. Making this the perfect office lunch catering choice.
Live Cooking Stations
Organizing office lunches with a live cooking station will create an entertaining and scrumptious catering experience for employees. They can customize their meal, observe it being cooked before them, as well as delight in the fun lunch atmosphere provided by these stations. It is also possible to accommodate individual preferences and dietary needs this way.
Why not surprise your team with such an engaging event? Live cooking stations at company breakfasts are sure to make memories while providing deliciousness all around! Consider using this method when thinking of interesting office lunch catering options for your staff today!
Food Truck Fiesta
Organizing a food truck fiesta for your office lunch is an exciting way to offer employees different menus and bring some vibrancy into their break. Inviting various mobile eateries allows them to step outside the four walls of the workplace and experience fresh air along with delectable eats like gourmet grilled cheese, tacos, hot dogs or anything that suits dietary needs. Catering from food truck facilities is ideal for giving all personnel a delicious meal while ensuring everyone can partake in this enjoyable event! So why not switch things up by hosting a fun-filled food truck fest at your office?
DIY Cooking Kits
For employees who desire a customized eating experience, office lunch catering through DIY cooking kits can be an ideal choice. This gives people the opportunity to build their own meals such as pizzas, noodle bowls or paninis according to when they want to eat and what their preferences are. Not only is it practical but also entertaining!
These crafting options make for an enjoyable mealtime adventure in which personnel have fun personalizing food while tasting something delicious too, all thanks to convenient office lunch catering of DIY cooking kits.
Themed Lunches
Bring some amusement and pleasure to your office lunches by adding themed lunches. These catered meals can be based on a certain theme such as exotic cuisine, special festivities or even recreating the Great American Road Trip catering concept giving an enjoyable and delicious dining experience for everyone involved. It is possible to add extra pizzazz to these fun lunch experiences in order to make sure that staff are engaged and fulfilled while eating their meal at work.
Themed dinners create a vibrant setting which encourages workers to chat away whilst sampling all of the food options provided throughout the occasion making it more remarkable than usual through including thematic lunches into your weekly meal cycles amongst other team members in support.
Healthy Lunch Boxes
Having access to office lunch catering which includes nutritious fresh food and delightful dishes can ensure employees are well fed. Healthy lunch boxes with bento boxes, salads or sandwiches can be tailored based on dietary restrictions and likes for a complete meal experience. Providing such options in the workplace is ideal for those who don't want heavy meals throughout their day but still receive all benefits from it.
Finger Food Extravaganza
For those looking to bring a more casual atmosphere, catering for office lunches can be revolutionized with finger food offerings. Dishes such as sliders, spring rolls, tacos and mini lobster rolls are available in bite-sized servings that provide plenty of variety for your employees while allowing them to mix and mingle without the need for the traditional plated meal. It's an ideal way to break up long days at work or create exciting opportunities during lunch hours! Finger foods add flavor and fun when it comes time for everyone's favorite mid-day meal, make sure you have what your team needs by providing delicious options from a caterer specializing in small bites suitable even outside formal dining settings like offices.
Dessert Day Delight
A dessert day can be an exceptional and cost-effective way to give office employees a unique break from their daily routine. Hosting a lunchtime filled with different treats, such as sundaes made of shortcake and strawberries or freshly baked cookies and donuts, will leave your staff feeling refreshed without the need for catering a full meal. This makes it an ideal alternative. Standard corporate lunches when organizing catering arrangements at work. Thus providing another special perk while enhancing morale amongst colleagues, all thanks to some tasty sweet snacks! Don't forget to house your delicious creations in some disposable mini dessert cups!
Breakfast for Lunch
For an out-of-the box lunch catering solution, why not offer a breakfast for lunch option? Your employees would get to enjoy their favorite morning items like French toast and yogurt, but with the convenience of having it during work hours. This unique catered meal ensures that your staff is excited about what's being served each day at the office.
By utilizing this concept of mixing breakfast and lunch fare into one delicious service, you can guarantee satisfaction from all who partake in your special catered lunches! You'll also be sure they will always look forward to seeing what's on menu of your next company lunch when getting ready for another excellent corporate dining experience.
Allergen-Friendly Options
Providing delicious office catering that takes dietary restrictions into consideration is key to making employees feel included. With gluten-free, dairy-free and vegetarian offerings, all needs can be met while still offering an enjoyable mealtime experience. Demonstrating commitment to the wellbeing of your team by including these options in your company lunch reflects positively on you as employers – it's sure to lead everyone in attendance having a great time!
Sustainable and Eco-Friendly Catering
Office lunches can become more sustainable and eco-friendly with catered catering options. Focus on locally sourced ingredients, minimal waste production and recyclable packaging to offer a meal that reflects your business' commitment to the environment. This includes ordering from nearby eateries, using disposable items which decompose quickly and offering vegan choices as well.
By incorporating these sorts of office lunch ideas into daily operations, it encourages responsible dining while reducing carbon output within the office space, creating an overall healthier atmosphere for everyone involved!
Nutritious Snack Stations
For those employees seeking lighter fare, convenient snack stations can provide high-quality snacks and finger foods to enjoy during meetings or for a quick energy boost throughout the day. Choices like boiled eggs, yogurt, fresh fruit and sandwiches offer healthier alternatives compared to traditional catered lunches.
These nutrient dense options are sure to give your staff the fuel they need in order to stay productive at work without sacrificing taste! Nutritious snack stations allow you easy access when needed so everyone can have just what it takes to keep them energized all day long.
Summary
Office lunches can be so much more than simply providing food – with some creative ideas, it's possible to give employees a delicious and enjoyable catered meal experience. From scrumptious sandwiches to allergen-friendly options and international feasts, there are an array of lunch choices that will suit every palate. So why not take advantage of these 20 appealing office lunch suggestions and turn the daily eating routine into something memorable for everyone?
Frequently Asked Questions
What should I serve for special lunch?
For an amazing lunch, why not try one of the delicious Italian deli pinwheel sandwiches, bacon linguine with peaches and gorgonzola cheese, zucchini noodles combined with avocado and mango sauce for a fresh twist or buffalo chicken wraps complemented by blue cheese and celery? Joanna Gaines' peach caprese salad is also an option that requires no more than 20 minutes to make.
What to cook for staff lunch?
For the staff lunch, why not try some scrumptious and cost-effective dishes such as tacos, grilled chicken, sandwiches or soup? All of these are sure to hit the spot!
What are some examples of gourmet sandwich options?
Delicious sandwiches with gourmet grilled cheese and other variations such as meatballs are available for an exquisite experience. These creative combinations of breads, cheeses, and meats can be a delectable treat.
How can I accommodate employees with dietary restrictions in office lunches?
To make sure employees with dietary restrictions are catered for, provide allergen-friendly options including gluten and dairy free as well as vegetarian choices.
How should I package individual meals?
A perfect solution for individual portion packing for sandwiches or desserts is to use disposable trays with lids. Not only is this a great option for company lunches but also any event where you may need to create a large quantity of the same meal and have them passed out efficiently.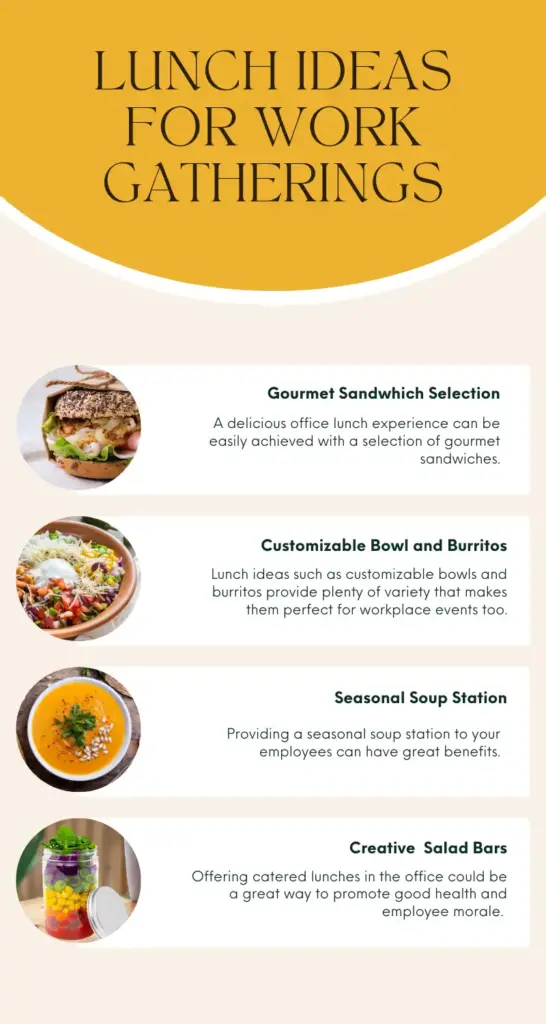 While summer is the perfect time to hold your events outdoors rather than indoors, it…