Planning a corporate lunch is no easy task when there are many employees in attendance. You must consider everyone who will participate in the meeting and their dietary restrictions and preferences. Before we give you the best easy snacks to serve at a corporate lunch, let's chat about possible factors that come into play when deciding on the menu.
Plan Early and Set Your Budget
Before you begin choosing snacks and other menu options, configure your budget and make a plan. Everything else will become much more manageable when a plan is set in stone, and you have a budget to keep you from spending too much money on wasted food. This even allows the company to host more corporate lunches in the future depending on the success of the first one; if you can smartly allocate your money the first time, that leaves room in the budget for more meetings to come!
Get to Know Your Attendees and Get a Headcount
Send out a survey for snack and lunch preferences, including questions regarding dietary restrictions, allergies, and lifestyle. Not everyone in the company will eat the same foods, and therefore you need to be more diverse with your options. Once everyone completes the survey, you'll have a plan to decide on the best snacks for everyone.
Along with restrictions on individual diets, make sure you know how many people will attend the event. To avoid wasting perfectly good food, make enough for everyone with a few extra snacks just in case. This also helps on the budget end from overspending on unnecessary food that won't even be eaten.
Use Ingredient Cards
Sometimes foods are new to some people, and they might shy away from an option because they don't know what is in it. This also safeguards vegan or vegetarian individuals from eating foods with hidden ingredients that contradict their lifestyle choices. You don't need ingredient cards, but they are an excellent courtesy to guests when there are multiple options to choose from.
How Will You Serve the Snacks?
Buffets are a popular style to serve snacks and other foods at meetings. Everyone can walk up to the table and put what they know they will eat on the plate. This also minimizes the need for servers when everyone can walk up and serve themselves.
However, if you keep portion sizes at a minimum, you can choose snacks that are already portioned out and in separate disposable plastic trays for each individual. This may be the way to save a little extra money and reduce the amount of cleanup that will need to happen after the event is done.
What Kind of Snacks Should You Serve?
Generally, if you want the meeting to be productive, serve snacks that fuel employees' energy, such as supplemental foods to get their brains working. Pick foods that are low in fat and sugar but high in fiber and water to keep everyone full until the lunch can arrive. A rule of thumb; only pick healthy options to ensure everyone is choosing something that will aid in making the meeting more productive.
While you should keep the snacks healthy, don't be afraid to include smaller, less healthy snacks to keep everyone happy. You want to keep the morale up throughout the meeting to keep everyone active and participating in the conversation.
What Makes a Healthy Snack?
When you begin selecting snacks, go for ones that include two food groups: dairy, protein, fruit, veggies, whole grains, etc. Avoid any snacks with added sugars and when the first ingredient lists sugar. Pairing a carbohydrate with protein will keep everyone fuller for longer.
Healthy snacks don't have to be mundane and boring; you can put little twists on them to keep everyone excited about eating a snack that is healthier for them. Just because it has beneficial properties doesn't mean the snacks are not great or delicious; guests and employees might not even realize the tactic you used to serve them nutrient-packed snacks.
What Snacks Should You Serve?
Keeping everything above in mind, many delicious snacks are viable options. To keep the energy of the meeting up, serve nutritious snacks for peak level in performance. The snacks should also be able to make everyone full until the lunch can arrive; plan out the event accordingly, so you aren't serving the two separate dishes together.
Charcuterie Boards
Charcuterie boards are very trendy in today's culture. The balance of nuts, dairy, protein, and fruit, makes for the perfect snacking platter for any meeting. You can choose to make individual charcuterie boards or multiple large ones for guests to pick and choose what elements they want the most.
Hummus and Veggies
Humus is one of the healthier dip options when it comes to veggies. With multiple ingredients that make up a variety of flavors, there is bound to be one everyone likes. This also ensures that the lifestyle habits of some employees remain intact and ensures they can enjoy all the same snacks as everyone else.
Energy Balls and Yogurt Parfaits
Energy balls are easy to make in bulk and provide the right ingredients to cultivate success. Pack energy balls with protein and other nutrients that pair well with yogurt and fruit. It is great to have two options in one when choosing easy snacks to serve at a corporate lunch.
Apples and Peanut Butter
Apples and peanut butter is a snack that is easy to prepare and one that most everyone will enjoy. The balance of fruit and peanut butter provides the perfect amount of nutrients to hold the employees over until the lunch can arrive. Decide on an apple that will satisfy everyone; red delicious or gala apples work great for this.
Nuts and Trail Mix
A less messy snack would be nuts and trail mix. You could even make a build-your-own trail mix station so everyone can pick and choose their favorite trail mix add-ons. Nuts contain many nutritional elements and are healthy fats to fuel energy.
Whether you choose to serve something simple or more intricate, make sure you are keeping the employee preferences at the forefront other than your own. You want to make sure everyone leaves the meeting happy and with their bellies full. Serving healthy and delicious food will promote productivity and create a welcoming atmosphere for new and old employees.
Other Articles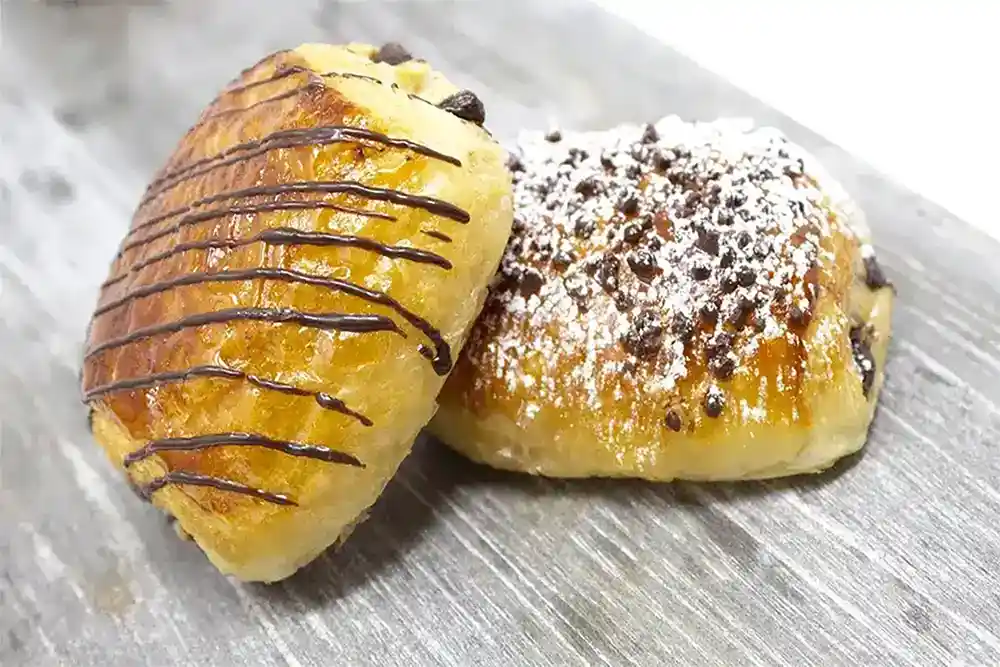 We're here to guide you through a delicious journey of fancy desserts…