You've prepared a great menu and scheduled the staff to serve it. The bar is stocked, and the appetizer platters are ready. But in the catering business, delivering great-tasting food is just the start. Try these simple ways to improve your catering food presentation to build your reputation and garner great reviews.
Presentation Changes With Service Style
Passed appetizers require a different presentation than plated entrees or foods that are offered buffet style. Depending on the event, caterers may prepare all three types of foods. This requires thoughtful planning for appropriate food presentation according to the service style. It also requires detailed attention to health and safety regulations, food temperatures, cleanliness, and sanitation.
Passed Appetizers
These may be served as mini-sandwiches, skewers, on toothpicks, or in individual bits arranged on endive leaves, toast points, or atop sliced vegetables. Whatever the item, it must look enticing on the platter.
Consider the color of the platter you'll present the appetizers on, the shape of each individual bite, and how to arrange the bites on the platter. Will you create a spiral or a grid pattern with appetizers? Remember that however you arrange the appetizers, guests must be able to select a piece without dipping their sleeves into other bites or knocking pieces off the platter. Don't overcrowd serving platters—give each piece some breathing room.
Guests must be able to instantly understand the ingredients in an appetizer so that they can wave the server off or call them over, depending on what's on the platter. Don't make appetizers so complex that guests are unsure what they're eating. Three ingredients arranged to be visibly attractive should be a good rule of thumb.
Plated Dinners
Sit-down dinners are more formal, and plating dishes beautifully is imperative. Take your cues from top restaurants and chefs. Don't overcrowd the plate. Present each entrée like a work of art, with composition and scale in balance with the serving plate.
Many chefs use the "clock" or "thirds" method. Divide the plate into three sections and superimpose the mental image of an old-fashioned analog clock on the plate. Place the protein between 6 and 9 o'clock, potatoes or other starches from 9 to 12 o'clock, and vegetables from 12 to 3 o'clock.
Combine texture, height, and color on the plate using garnishes and sauces that are swirled, smeared, or applied with pastry bags on the plate to create a swoop of color.
Sit-down dinner menus may begin with an amuse-bouche served in a flat-bottomed spoon, followed by soup, then the entrée, and a salad. The vessels that present these items are part of the visual presentation of the meal, so don't neglect the style of the breadbasket, plate, or additional utensils that the menu requires.
All caterers must be conscious of food allergies and the need to offer vegetarian, vegan, or gluten-free items. Don't treat items provided to accommodate dietary restrictions as afterthoughts. Those who will be served these dishes deserve the same attention to presentation as those consuming the other main dishes.
Train staff to clear quickly, but not to interrupt guests who are slower eaters. The idea is to get the next beautifully presented course on the table and remove the plates containing the remains of consumed food from the picture as quickly and smoothly as possible.
Buffets
Presentation on a buffet carries additional challenges that make simple ways to improve your catering food presentation a little more complex.
First, you don't have complete control over how the buffet is going to look after guests go through the line. Make sure staff are trained and ready to clean up spills, rearrange platters, and replenish chafing dishes when necessary.
Create visual interest on a buffet by establishing different levels. Use stands under the tablecloth to create height for some platters. Make sure serving utensils are both elegant and practical for grabbing bread rolls, desserts, and slices of meat or fish.
Pandemic concerns made individually packaged portions necessary on buffets in many areas. Take advantage of this change by presenting desserts creatively in individual servings. Use disposable, recyclable plastic containers so that guests can see clearly what's inside. These don't have to be boring; try buying wholesale plastic mason jars to present individual puddings or parfaits. Sandwiches and individual entrees can go into transparent plastic serving boxes.
Be Consistent With the Theme
Flowers and décor associated with the event will surround your food. Add items that reflect the season or a particular party theme. A simple way to improve your catering food presentation is to play off the event theme.
Menu selections will express a cuisine that's consistent with the theme, and garnishes can emphasize it. Choose edible flowers or add fruit slices to complement the color scheme of the event. Everything on the plate must be edible and complement the main dish in flavor, texture, and color.
Add décor that reflects the theme and the menu. If your clients requested a raw bar that includes oysters, cooked shrimp, and lobster tails, regard ice as part of the presentation. These items must remain cold to avoid spoilage; mounded crushed ice may form the serving surface for some of these items, and garnishes of lemon and parsley can add some color. If the budget allows, consider decorating with a statement ice sculpture that reflects the theme of the event and calls attention to the items offered on the raw bar.
Don't Forget the Drinks
Drinks have a visual element as well. Don't neglect presentation when you create a signature cocktail for a wedding. Garnishes like maraschino cherries, citrus slices, sprigs of fresh herbs, and olives or onions for martinis create a visual element that pleases guests. If you can add a colorful swizzle stick or a branded toothpick, your presentation will be more memorable.
Leftovers Need Presentation Too
The hosts pay for uneaten food, and if they want to take dishes home with them, be prepared to package and present them attractively (if local health regulations permit). Remember that food going home to a residence will be stored in a residential-sized refrigerator or freezer, not a restaurant-sized one, so select boxes and trays that will fit.
Each catering business develops its own style, menu, and specialty. These simple ways to improve your catering food presentation allow you to develop your signature look for your plates, passed appetizers, buffets, and bars.
Other Articles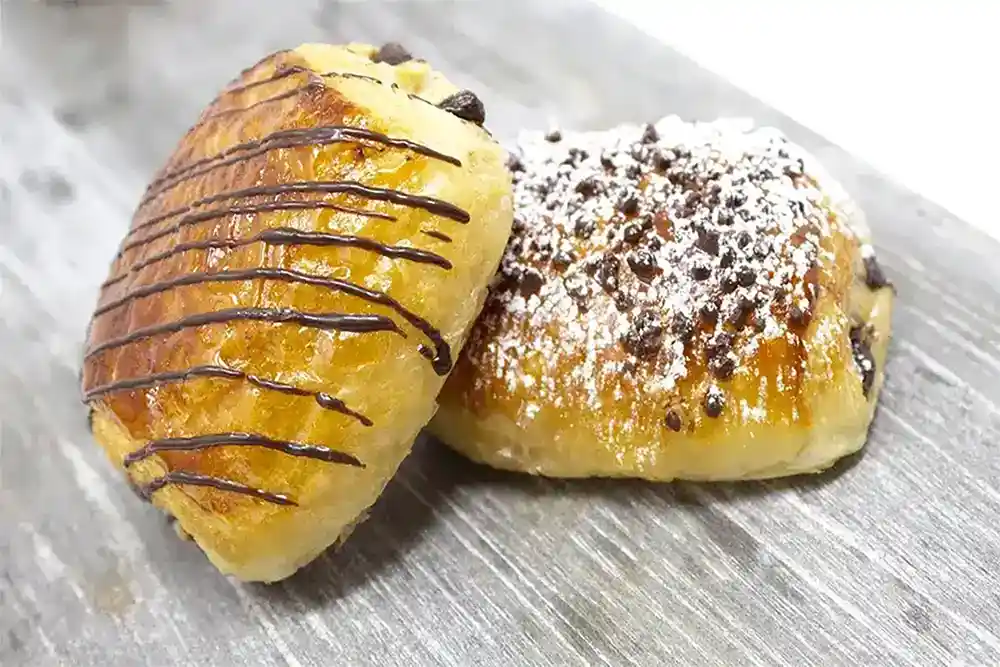 We're here to guide you through a delicious journey of fancy desserts…