The things to keep in mind when crafting a catering menu are simple ideas that will give you the best responses from customers and clients. Providing a menu to your clients gives them a close look at what your business can provide.
Catering menus can be customizable to the catering event or simplified for an easy selection of drinks and entrées that you'll serve at the party. Customers will appreciate that you have something to show them right away. This may even sway them toward your catering company because you came prepared with a menu in hand.
Choose a Service Style
Believe it or not, there are many different styles of catering. The three main styles are buffet, tray pass, and plated. Each option has various benefits and allows the client to decide on the perfect style for them.
The client might have a specific theme in mind as well. Take notes about what kind of experience they want to create at their event. Help them craft the perfect menu that all guests will love.
Buffet Style
We've all been to a buffet, so it is easy to explain. Let the guests choose what is on their plates by having multiple options in a buffet-style setup. Buffets may seem less formal than other service styles, but they could excite the guests the most. This guarantees they will eat something they know they like.
Buffet tables are another component that you can use as a decorative element. Tables, where food rests, are the central hubs for any event. Make them look appealing for an added effect to the party.
Tray Pass Style
The least common of the three styles is tray pass catering. In this style, servers will walk around with a display of appetizers and entrées. Guests can see each plate before deciding which one to go with. This option allows for a better decision process as the guests see each dish.
Plated Style
The most traditional route to crafting a catering menu is pre-plating the meals. Usually, people send a list of entrées with the event invitation, and guests pre-select what they want to eat before arriving at the event. This may be the simplest way to create a menu and get an accurate number of how many meals you need to prepare.
Keep Budget in Mind
The most significant component of a catering menu is keeping your client's budget in mind. This will determine the kinds of food you can offer and keep it budget-friendly. Even if you don't have a client in mind yet, making a conscious effort to keep the budget low will please clients. Often, they will find your company the most cost-effective for their event.
You could even go the extra mile and create multiple menus that fit into tiered budgets. This allows for more wiggle room for the client. It's also a great visual representation of what they could have at their banquet.
Make sure to consider your budget as well. Try to mark up any ingredients you use to make the meals by three times their price so that you can make a profit, too. You want to please your guests without wasting their money or yours.
Account for Allergens & Restrictions
At large events, there will inevitably be guests with food allergies or dietary restrictions. You'll also need to account for vegans or vegetarians in the menu.
It's okay to have alternative options on the menu. In fact, guests will appreciate the thought and will most likely be willing to use your catering service again in the future. It may be more work for your staff to create extra plates, but you are more likely to please guests when you include food for every kind of person on the menu.
Seasonality & Time of Day
It is important to keep in mind the season and time of day the event will occur. It might be a little odd to have a summer meal or dessert in the winter. Many different dishes complement the seasons they are in. Try to curate multiple menus for each season. This way, you don't have to scramble around for ideas; you'll already have them written down!
Another critical component to menu building is when the event takes place. Sure, breakfast for dinner is always a good option, but maybe not for a catering event. Speak with the client and get to know who they are. This is their event, not yours.
Get a feel for the client and come prepared to the first meeting with questions and ideas. Maybe they only want desserts at their event and will need wholesale plastic dessert containers for a large number of party-goers. It also depends on the type of event. Weddings are very different from galas or banquets.
Stick With a Variety
When in doubt, have a variety of menu options. There is never such a thing as too many! The prospect of having choices should excite the client because they will be receiving precisely what they envisioned. Offering multiple options leaves wiggle room for personal customization of the menu.
Maybe your catering company has a signature dish it knows it can perfect. Keep the dishes you know your staff can prepare well at the top of the list. Make suggestions and help your customers find the perfect menu for any of their party needs.
Speaking of variety, what makes your company stand out from its competitors? Something to keep in mind when crafting a catering menu is your competition. Browse their online website and see what kind of services they are offering. Take this into context to make your menu stand out from the competition.
Now that you have the five main components to a catering menu, you can perfect your work. Dazzle the guests with intricate details of the plates and add your company's style. Make sure the guests know where all the scrumptious food came from. The chances are that if a guest enjoyed the food and needs a caterer, they'll go with one they've already had a good experience with at a friend's event.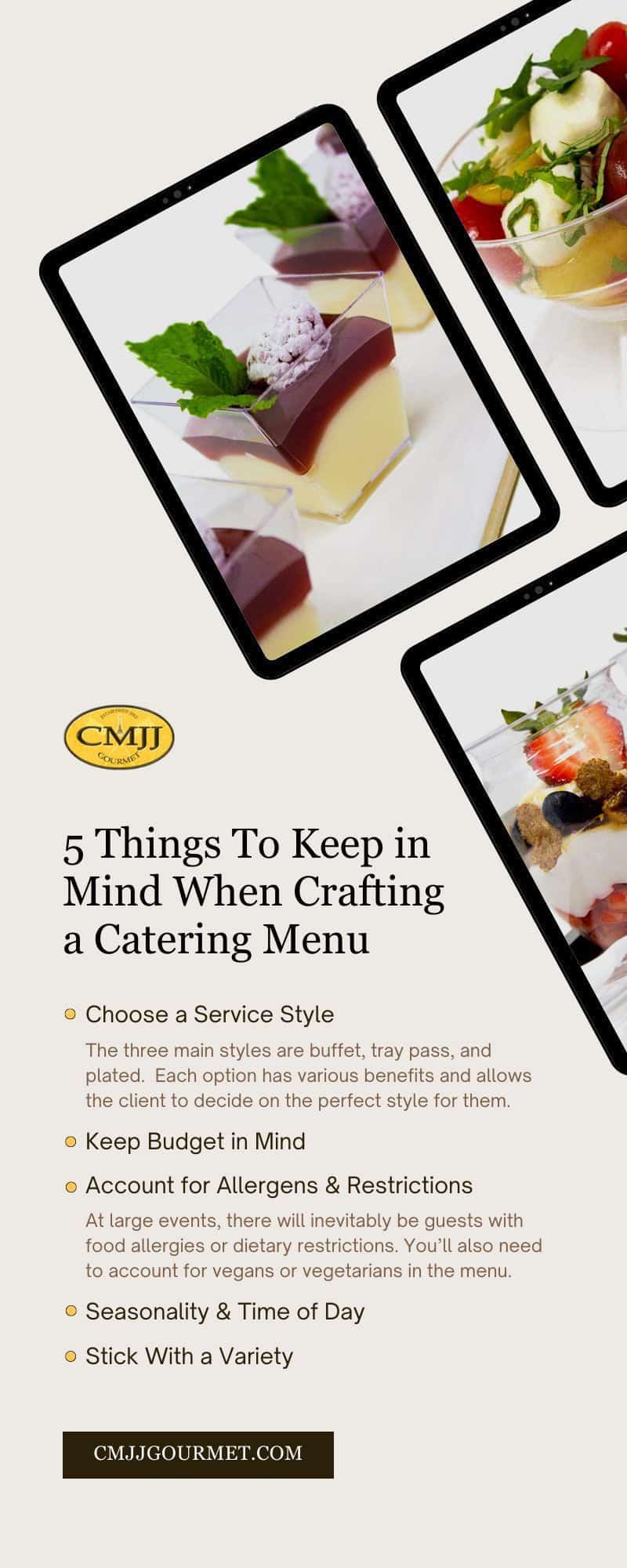 Other Articles
While summer is the perfect time to hold your events outdoors rather…