As a caterer, it's important to have a unique catering menu guests will love, as not everyone will have the same preferences. Offering a diverse menu will allow you to appease more individuals, which could be effective in creating new client relationships. Without an eclectic menu, guests may become bored—don't be afraid to get creative and try out the following delicious catering menu ideas on your next menu!
Bubble Tea/Boba
You can likely expect a handful of guests who prefer not to drink alcoholic beverages. When planning your drink menu, try to keep these individuals in mind. Instead of having simple options for them to choose from—such as soda or water—offer the guests a unique selection of beverages, like bubble tea.
Bubble tea, or boba, is a beverage that originated in Taiwan. This popular drink is perfect for guests that are more daring and willing to try something different. Boba is a very delicious tea that can be flavored in any way the guests would prefer—this makes for a fun and perfect non-alcoholic drink for a party that will certainly make for a memorable experience!
Donut Peg Board
Many partygoers think of cake as the main dessert option. While choosing a traditional sweet to serve at a catering event is a safe choice, you could offer guests something less mainstream with a donut peg board – one of the most unique catering ideas these days. Of course, you could lay donuts out on a table and call it a day, but an interactive food station is a unique experience guests may not find with other catering companies.
For this dessert table to work, you'll need to offer cake donuts, as long johns and donuts without a hole in the center will not fit on the peg board. Offering a variety of flavors to appease all taste buds, as well as different colors and sprinkles, can add style and personality to the board. Just think about all the colors the donuts will add to the table! You can be sure that the guests will be truly impressed with your creative catering setup ideas!
Sushi Station
To offer a unique catering menu guests will love, try being more adventurous with food selections because not every host will have the same preferences. As a company, you'll appeal to more guests if your menu offers common and uncommon options. Sushi is a light food choice that allows party guests to pick and choose which and how many rolls they want to try in a night.
This type of food offers an experience no other food can because of its extraordinary flavors and textures. As an event food caterer, ensure you are making sushi rolls that are great for beginners to try, such as California rolls, as well as other specialty rolls, such as dragon or spider rolls.
Mini Charcuterie Cups
Who isn't a fan of charcuterie boards? Take a different spin on this traditional hors d'oeuvre by creating bite-sized charcuterie arrangements. Partygoers can walk around and mingle with other guests while enjoying a small cup with the tastiest cheeses and meats. Large displays of food are wonderful, but by placing these hors d'oeuvres in cups, you can limit the number of people swarming this food station.
Charcuterie is a great snack to serve during happy hour while guests wait for the main course. This is also a great option for individuals with allergies because you can create cups with gluten-free meats and cheeses.
Brunch Buffet
Buffet-style meal options are great catering ideas worth including in your party food menu because they allow guests to pick and choose how much food they're willing to eat throughout the night. While any buffet style would be a great option, you can never go wrong with brunch. We recommend having your menu options accommodate daytime and late-night events—some people choose brunch time for weddings and other occasions, too.
When finding ingredients for this brunch option, ensure you are choosing sweet and savory flavors to create the perfect combination. Such breakfast catering ideas as French toast, egg bakes, fresh fruit platters, breakfast meats, and freshly squeezed juices are all great selections for brunch.
Waffle Bar
A waffle bar is a great family-style catering idea, perfect for various events. Whether it's a wedding reception, birthday party, or corporate event, waffles are the kind of classic go-to sweet beloved by both children and adults.
Imagine a spread of freshly made, golden-brown waffles served with an assortment of scrumptious additions like fresh fruits, decadent chocolate sauce, whipped cream, and a variety of syrups. With both sweet and savory toppings, guests can personalize their waffles to their liking, making it a unique and interactive culinary experience. With a fun catering idea like this, you can be sure you will have your guests talking.
Finger Foods
Bite-sized finger foods are an excellent food option to serve at a catered event. They work well for mingling and socializing, allowing guests to indulge in a wide range of flavors without the need for formal dining. From elegant cocktail parties and corporate functions to casual gatherings and family celebrations, finger foods offer something for everyone.
The menu can feature an enticing assortment of simple appetizers, mini sandwiches, crab cakes, savory sliders, crispy spring rolls, delectable bruschettas, and an array of delicious dips and spreads. For those with a sweet tooth, miniature desserts like mini cupcakes, macarons, and fruit skewers provide the perfect sweet ending. Finger foods not only tickle the taste buds but also elevate the overall dining experience, making it a memorable and enjoyable catering option for any occasion.
Coffee Bar
Whether it's a morning business meeting, a wedding reception, or a social gathering, a coffee bar adds a warm and comforting touch to any event. Guests can indulge in a wide selection of freshly brewed coffees, from rich and robust espressos to creamy lattes and velvety cappuccinos, as well as a cold brew. For added variety, you can provide flavored syrups and toppings like cinnamon, cocoa powder, pumpkin spice, and whipped cream to allow guests to personalize their coffee creations. To cater to different preferences and dietary restrictions, you can offer decaffeinated coffee and a variety of milk choices.
The aroma of freshly ground coffee beans will fill the air, creating a welcoming ambiance that encourages conversation and connection, so a coffee bar surely belongs to cool catering ideas you can try out.
Ice Cream Truck
Do you remember that feeling you got as a kid when you heard the ice cream truck music down the road? Food trucks remind us of delicious meals that we normally eat only on special occasions, so an ice cream food truck will make for a unique experience you won't be able to recreate any other way. Nothing can be more exciting than surprising guests with an end-of-the-night ice cream!
The party host might choose to serve a more traditional dessert after dinner, but as the night comes to a close, more and more people are choosing to have this "midnight snack" before they leave for the night. To make this food station easier to serve, pre-scoop the ice cream into disposable plastic dessert cups with lids—this makes for a quicker cleanup, too.
Comfort Soul Foods
Not every celebration will call for unique foods. Some individuals might like to stick with comfort or soul food items because they'll be a hit for everyone. Think mac and cheese, potato salad, grilled cheese and tomato basil soup, or fried chicken and waffles as the ultimate comfort foods. Offering these catered dinner ideas will almost certainly appease all partygoers. You can also consider partnering with a local restaurant that uses local ingredients to make sure your meals are of the highest quality and feature a personalized touch that the guests will surely appreciate.
Take this comfort food catering trend to another level by creating little "shooters" in mini dishes so guests can grab a few different items and enjoy multiple foods without needing an entire plate. Taking soul food and placing it in mini shooters will create a more elegant and sophisticated element to this menu option.
S'mores Galore
If your host has an outdoor wedding or party, we recommend offering the ultimate sweet treat that will add a fun twist to any event type – s'mores. This puts a unique spin on dessert options for events. You and your staff can pre-make the s'mores yourselves, but that takes the fun of building the s'mores away from the guests.
Set up a table with the correct utensils and ingredients, light a fire, and allow partygoers to roast their own marshmallows. This makes for the ultimate dessert option for outdoor summer events as well as creates a fun activity for everyone to enjoy together.
The Bottom Line
If you want to offer a more one-of-a-kind dining experience for your guests, curate a menu with unique catering ideas, including food and drinks, that you cannot find anywhere else. These types of foods will allow your catering company to stand out among all your competition. If you're ever stuck coming up with party catering ideas, put yourself in the guests' shoes and consider what you would want at an event; you're sure to find some inspiration!
Other Articles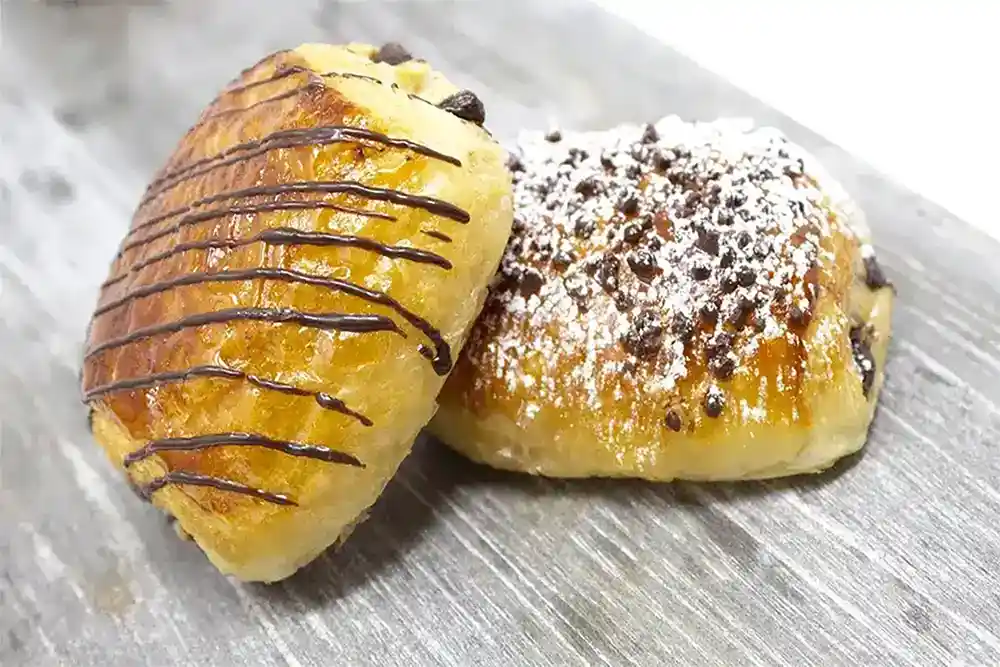 We're here to guide you through a delicious journey of fancy desserts…